Just in time for the 20th anniversary of Buffy the Vampire Slayer comes the Whedonverse Cosplay Photoshoot & Picnic. If you're a fan of anything Joss Whedon, but missed this event, no worries. There are still plenty of events to come, all leading up to Whedoncon 2017.
Whedoncon 2017
Whedoncon 2017 is a charitable fan convention that brings all believers of Whedonism together. The event, entering its second year, will be held at the Warner Center Marriot in Los Angeles from May 19th to the 21st. So, if you live in the Los Angeles area (or Southern California) and are a fan of Buffy the Vampire Slayer, Angel, Cabin in the Woods, etc., then this is an event you won't want to miss.
Whedonverse Cosplay Photoshoot and Picnic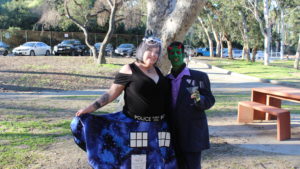 Leading up to Whedoncon are a series of events planned by the hosts of this convention. One of these events was the Cosplay Photoshoot and Picnic, which was hosted on Sunday, March 12th, 2017. Like Whedoncon 2017, this picnic (hosted from 1 pm – 6 pm) supported local charities and helped to bring together many fans of the Whedon universe.
At the photoshoot picnic, signs pointed Whedon fans and photographers to the picnic area where they could eat great food, take some great photos, and enjoy all things, Joss Whedon. Both professional and amateur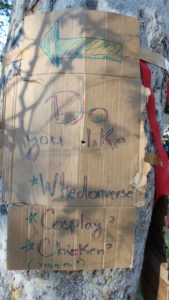 photographers from studios like BlamedavesPhotos, Miss Trini, PunkTown TV, and yours truly, took photos of the Cosplayers in their fabulous costumes.  Friends laughed and enjoyed the sunny California weather at Griffith Park, all while eating some seriously great chicken and snackage. It was a fun and friendly atmosphere where people could be creative with their costumes and their photos.
Host and planner of this fun and unique event was Toni Adams, who stayed at Griffith Park all day. Talk about dedication. As the vendor coordinator for Whedoncon, Toni has planned and will host many other events that will all lead up to the exciting Whedoncon fan convention in May.
If you're a fan of the Whedon Universe, and you live in the Los Angeles (or Southern California) area, here are two upcoming events that you can attend, with more to come soon!
Charitable Whedon Knit Nights:
Sunday (3/19) from 2 pm – 4 pm at the Ripped Bodice in Culver City
Saturday (3/25) from 5 pm – 7 pm at Galaxy of Comics in Van Nuys
In the meantime, celebrate the 20 years that Buffy has been in our lives, or just sit down and enjoy watching the genius that is Joss Whedon. Happy viewing and cosplaying!