Have you ever associated Joss Whedon with knitting? Maybe you have, maybe you haven't, but hopefully you're curious about where this is going.
WhedonKnit Night
WhedonCon 2017 is a charitable convention devoted entirely to Joss Whedon. Hosted at the Warner Center Marriott in Los Angeles, CA from May 19 – 21, 2017, WhedonCon brings fans together for a weekend of charity, fun…and Joss Whedon! Of course, the convention wouldn't be complete without some pre-con events. One of these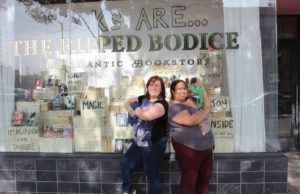 exciting and fun events is WhedonKnit Night! That's, right! Joss Whedon and knitting.
The Ripped Bodice, a romance bookstore in Los Angeles, California, played host to the most recent Knit Night on Sunday, March 19th, 2017. Whedoners attended the 3rd Knit Night from 2 pm – 4 pm, ready to knit for a good cause as all the proceeds are donated to Newborns in Need (SFV chapter).
Newborns in Need
Founded in 1992, Newborns in Need is a charitable organization that collects and distributes burial clothing and care packages to families whose babies are stillborn or premature. The organization also helps teen moms, as 8 out of 10 teenage pregnancies aren't planned. Their mission is to make sure that, "…the teen mom, the stressed family, and the mother overwhelmed in sadness is supported in the first moments of the child's life." Sent to various agencies, hospitals, and shelters, these donations help families and their babies affected by poverty or illness. This makes Newborns in Need a really great organization. WhedonCon is lucky and happy that they're a part of it.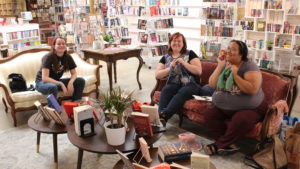 Behind this creative, and very important operation is Toni Adams. Toni's official title is vendor coordinator for WhedonCon 2017. When asked about the inspiration behind this idea, she said it was important to everyone to prove that they're not just, "nerds who dress up in cosplay costumes," as Toni put it. They're also people who care. All the really creative fans that attend the convention can put their talents to good use by knitting hats, booties, blankets, etc., for Newborns in Need.
Come Out and Join Us!
Even if you don't know how to knit, donating to a charitable organization is a great use of your time. You'll also learn a new craft and make some new friends. People who attend WhedonKnit Nights really know how to knit and are always willing to teach you what they know. Not to mention, you'll be surrounded by Whedon lovers.
Galaxy of Comics in Van Nuys, California, will host the next, and last, WhedonKnit Night on Saturday, March 25th, 2017 from 5 pm – 7 pm. So, come out and help make clothes for small and needy babies! You'll have a lot of fun doing a great thing!