So, a bunch of us went and saw Suicide Squad last night at the new Dolby Theater in Tysons AMC. Rumble seats and leather recliners, it's a glorious theater experience.
Overall Review: Fun, fun and more fun. See it in theaters.
Pick it apart review: So many holes, pacing issues, and a quagmire of weird cinematography/editing/musical choices made a lot of the characters hard to connect with, despite a bunch of opportunities, which is what you need to do in a big ensemble like this, so it kinda falls apart. Nevertheless, it was fun and I'd like to see more.
Overview: this bunch of jokers (pun, terribly intended)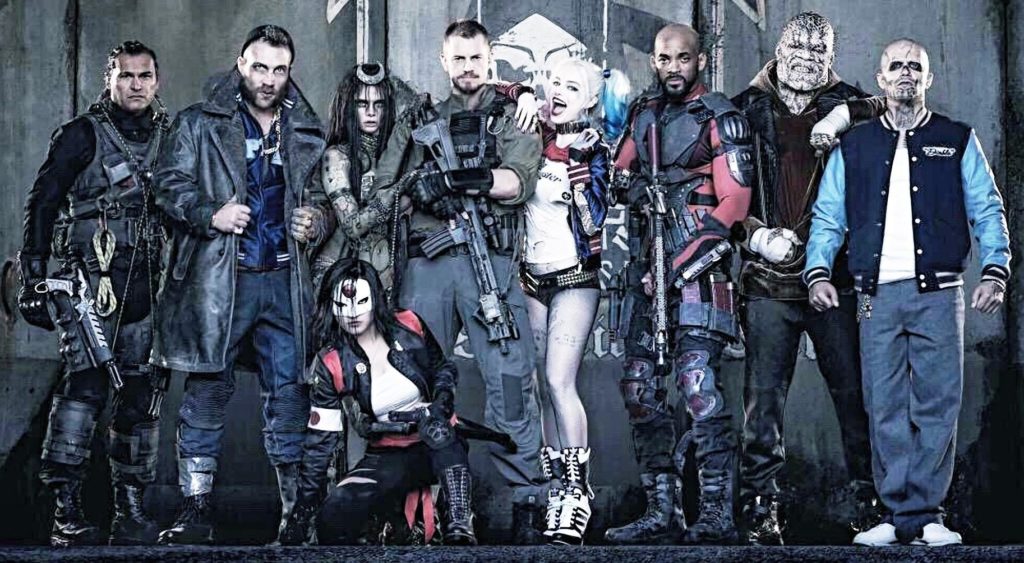 is forced to team up to defend the world from evil. In this instance, it's an evil within.
[su_spoiler title="Who is the bad buy in Suicide Squad? The answer might shock you."]Alright, so the main villain for Suicide Squad is actually one of the "founding members", ENCHANTRESS. Or rather, Enchantress and her brother, Incubus. It's actually straight off the page: SO, somewhere around Suicide Squad #14 or #15, Enchantress and the squad are sent in to team up with Nightshade to bring down her brother, Larry Eden (possessed by Incubus). In this issue we find out that Enchantress is just a pet name and her actual name is Succubus, and she's the true sister to Incubus. In the movie, we skip the mess with Nightshade and jump right to the brother/sister madness created by the universe-jumping immortals Incubus and Enchantress trying to build a machine that will kill and enslave the world. No big deal, right?[/su_spoiler]
Click above for the spoiler, otherwise go to the movie and comment your thoughts!
[su_spoiler title="Bro Talk"]There are a LOT of shots of Harley's butt, weirdly enough I didn't buy any of the crazy that Margot was selling, but she's soft around the edges and I love that. Cara Delvingne is… so hot… when she's in Enchantress form I really want to see this cosplay at NYCC. That girl is so friggin' sexy. The whole time she's in this gothic two-piece bikini, I dunno why but it works for me. [/su_spoiler]
Click above for the mildly chauvinist bro talk. If it's a trigger for you, just don't click it you psychopath, it's dudes being dudes.
It has action, really fun casting choices, and some surprises from Jai Courtney (he's good, and we like him, that's the surprise). All in all, my whole group was pleased with the movie, and most of us will be seeing it a second time this weekend. We have some free movie passes to give away, stay tuned to the streams and social medias for those giveaways.